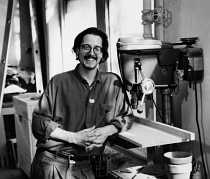 Photo courtesy Chicago Sun Times
Neil Verplank
Dovetail Custom Furniture

I've been a professional craftsman and woodworker for over a decade, and am presently based in Chicago. I ship my work to clients throughout the United States and Europe. I have an engineering degree, but my working background is quite diverse, including advertising, public relations, computer programming, information design, and strategic technology consulting.
As a craftsman, there have been many influences on my work. My beginnings lie in my father's basement shop, and I have worked in my share of attics and lofts. My present shop is over 5000 square feet of industrial space on Chicago's near southwest side. I've apprenticed with fellow craftsmen, as well as worked with and for many of my peers. Most of my training, however, has come through my own experience. "The work will teach you what you need to know," a friend once said; I can think of no simpler truth.
My own work does not attempt to follow a specific tradition or any particular maker's style, though my aesthetic and design philosophy are well established and clearly seen in my work. Among my influences are many well known craftsman, including George Nakashima, Sam Maloof, James Krenov, Gustav Stickley, and Wendell Castle, as well as the long and rich Japanese tradition of craftsmanship -- Ryokan to temple to exquisitely hand-crafted furniture. My work has been described as "post modern mission," with its clean and simple lines, and its emphasis on craftsmanship and functionality.
Above all I value the beauty of wood as a natural working medium, the honesty of the straight line or perfect curve, and the simplicity of practical usefulness. I feel the work should honor the tree from which it came, and should last as long as it will take for another tree to grow and replace it. I continue to learn with each new piece and project, and I look forward to a lifetime of creating new work.