bus
This is a major bus station in interior Africa - it's a dirt lot on the edge of town, at a junction of roads that lead to any number of countries, and which look much better on the map. Here you can travel on anything that moves, and that which they are able to keep moving is a testament to their ingenuity. Most of the vehicles in Africa exceed their capacity by almost double - there are easily 90 or 100 people crammed on a school bus. Plus luggage and livestock.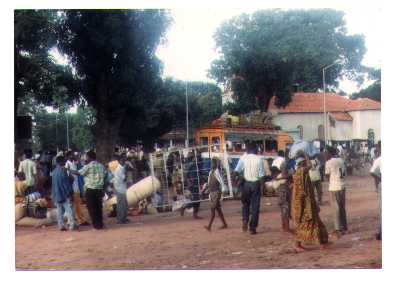 I'm sitting here with a tailor. This is a man who sits in shack on the edge of a lot at the intersection of nowhere in another time. At least that's how I saw him. I mean, I have traveled immense distances in ramshackle vehicles across all manner of territory, across cultures and time. So many people in Africa spoke to me of their dream to come to America, because for them America equates to freedom, Canaan - a land of milk and honey, of equality, of good doctors and safety. And although that America is available to some, it is not the America I know. And I tried to explain to them but it's hopeless. You have to experience it.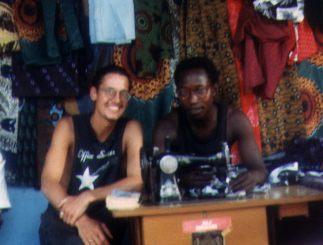 But Africa is much more complicated than that. It's not just the dark and impenetrable continent of Conrad and Livingston. I said something about something, and the tailor whips out his chalk and starts doing physics equations on his sewing machine. He was majoring at physics at the University (in Dakar I think), but he ran out of money. So, he came home to make some more, and then he'll go back. And he'll get his degree, no matter how long it takes. That is the magic of Africa - that it challenges every conception you have - about yourself, your world, your country, your culture. That in the middle of nowhere in an impoverished country sits a tailor who's a physicist.
One of Africa's great virtues is it's long-suffering. The tea-ceremony of Western Africa can easily take 3 hours to make three cups of tea, which the group share by passing the cups around the circle. It involves an intricate story that varies slightly with the telling. The first cup is bitter, like life. The second cup has sweetened, like love. The third cup is very sweet, like god. It changes each time, but the process is the same.
From here, I made my way to Tambacounda, Senegal, where I caught the Trail to Mali.