Diamond Technology Partners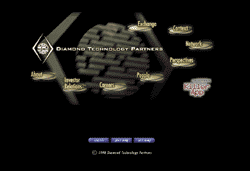 A rapidly rising star in the management and technical consulting field, Diamond's basic philosophy is that technology is changing every aspect of the way the world does business. It was imperative they have a site that takes full of advantage of the web.
We've helped them over the course of 2 years, integrating a host of custom and off-the-shelf tools that facilitate navigation and communication. We built a fully automatic web publishing system for their personnel; integrated threaded discussions to help build communities; and have begun building a number of online tools, such as registration, scheduling and a collaborative environment for internal and eventual external communication for Diamond and its clients.
O'Reilly, Collins & Danko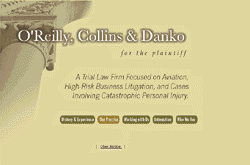 A California-based, national trial law firm, OCD handles major cases involving aviation and automobile accidents, often cases that are international and generate intensive media.
With one of the most successful trial records in the country, they needed a site that showcased both the partners with their experience, and a comprehensive history of the work they've done. They also wanted to provide a space for clients and their families to learn about what they do in an easy and comfortable way.
Dovetail worked with OCD over the course of 6 months to find just the right blend of style, tone and message to meet OCD's needs.
Robert Henry Adams Fine Art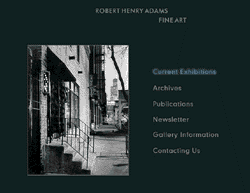 Rob Adams has two simple goals for his gallery: when people get on the internet and search for him and the artists he represents, his site should come up. And two, when they get to his site, he wanted to share enough about the gallery and artists to make people want to call or come in.
The latter part of the goal was straightforward; integrating transparencies of the current archive in a clean and intuitive interface, and providing information about past, present and future exhibitions helps cover those bases. Getting recognition on the internet, however, can be a real challenge. We are working extensively with the site, search engines, placement techniques and marketing efforts to help insure that Adams Fine Art is "easy to find" for those who are looking.
Rehabilitation Institute of Chicago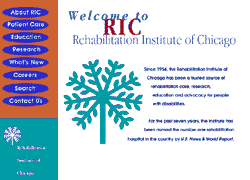 RIC is the nation's number one rated rehabilitation facility. We helped them build a robust web site that integrated their programs, literature and internal processes from the hospital's 11 facilities into a clean and simple interface.
To better serve the patients and staff of RIC, we've integrated a number of online facilities: a simple interface that searches through RIC's entire program guide; online biographies of program doctors; maps to all of RIC's facilities, and the first step towards an online registration system for outpatients.
Midland Computers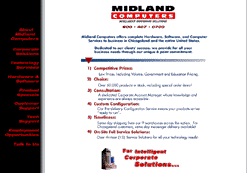 Midland is a national distributor of computer hardware, software and consulting. Growing fast, Midland needed a way to let potential customers know what they do and what they have to offer.
As they grow, Midland hopes to take advantage of the growing market on the web and offer an online catalog and eventually direct sales. Which Dovetail would of course be only too happy to provide .
Lasalle Bank - Cash Management Division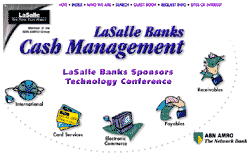 Quicksilver built this site, but Dovetail served as technical consultant. We also did all the server-side programming and the java. We built the on-line forms and database, built the search-engine for the site, and wrote the nifty applet that appears on the top of each page.
The Chicago Instructional Technology Foundation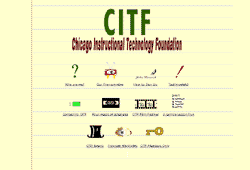 The CITF broadcasts educational programs throughout Chicago via a microwave relay network. They create a new, custom course schedule each week from a library of over 100 courses and 1000's of tapes.
Our goal was twofold: First to automate the dissemination of literature, creating a single, up-to-date repository for current offerings. Second, analyzing current offerings and building an online relational database from the course information. This has given a whole new set of tools to the teachers at CITF member schools, so they can quickly find the kinds of programs they want to use in class. Of course, the additional benefit of establishing reliable two-way communication between CITF and the teachers via the web helps the CITf build new course schedules on the fly each week.
Enteract - an Internet Service Provider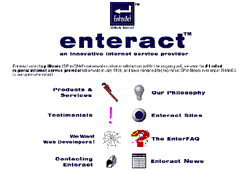 (Please note that enteract has subsequently been bought out.)
A Chicago-based ISP, Enteract's ranks have swelled to over 8500 users in just three years. The biggest difficulty in maintaining an internet service is providing present and potential clients with all the answers to all their questions.
We worked with Enteract to build a site that's easy to navigate for even the novice surfer. We integrated comprehensive Q&A's and FAQ's that address the questions Enteract is daily beset with. Then we added a search engine, to insure that a user could find what they needed on the site.
Enteract is now ranked as the number one regional service provider in the nation, and consistently rates number one in customer satisfaction in national polls. We're glad to have been a part of that.
Frank Lynn & Associates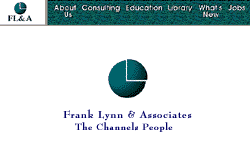 A channels marketing firm in the Chicago loop, FLA consults with Fortune 500 companies on how to distribute products and services. They needed a sophisticated but intuitive interface to communicate the complexities of what they do; they also wanted a comprehensive and expandable online database of their publications and articles (available under the Library menu).